PRINTING SERVICES
Unique Individual Proof Systems



System 1 - Ideal For Schools and Nurseries

We have found that this system is the most popular as it combines the most simple and flexible ordering system for parents with the most generous commission rates for schools. Parents can order from a choice of 10 pack options and in colour, black & white or sepia by simply completing and returning the order envelope to the school. In addition to this, parents are able to make use of our secure online ordering service

myschoolpictures.co.uk.

By using the unique proof number and randomly generated passcode from their proofcard they can log in and choose from an even wider range or products.



System 2 - Ideal For Nurseries and Studio Sittings
This system works more like a mini-studio sitting and allows photographers to charge much closer to studio prices. Perfect when shooting multiple poses and spending more time correcting the images in Photoshop before sending to the lab. A proofcard of each shot is produced and parents can order a wide range of print sizes from an 8x6 up to a 24x30 poster size. They can also choose how they want their prints presented - Either in a quality mount, modern box frame or a canvas print in box frame.


---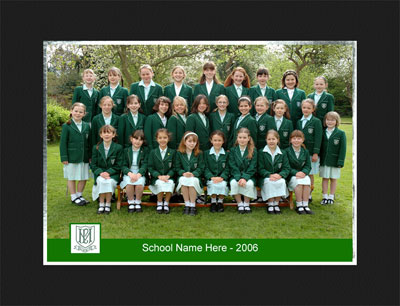 Our unique group proof system allows the photographer to offer up to 3 different sizes and shows the parent the finished product in a mount with school name and logo
---
Leavers / Individual and Group Combinations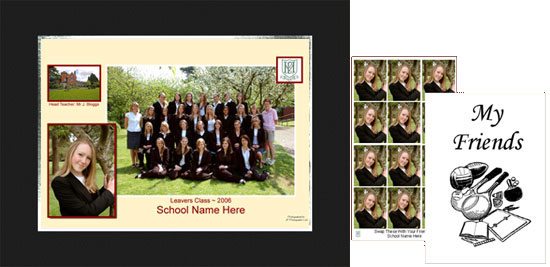 Modern Montage Leavers Packs or Traditional Dual Mounted
---
Large / Year Groups
Panoramic Prints Up To 24" Inches Wide
---
Benefits for Schools
To help sell your services to schools we will work with you to help produce I.D. Cards, Staff Boards and AUTO CDs that will automatically upload the students images into school databases
---
If you are a school photographer and are interested in our schools printing services including the online ordering please Register Here
IF YOU NEED MORE INFORMATION PLEASE PHONE 08451086243
---
Non School Printing Services
Digital Print Packages

Colour Print Packages from 35mm / Medium Format Negative

Re-prints up to 24x36 inches from Negative or Transparency

B&W/SEPIA Print Packages and Re-Prints from Colour or B&W films

Film Development Only

Superior Contact Sheets

Scans to CD-Rom from 35mm or Medium Format

Restoration & Manipulation

Borders (White or Colour)

Text on Pictures
You can send us your orders in the post or make use of our FREE photo kiosk software and choose to either collect or have your order delivered direct to your home. Please make sure you are using the sRGB colour space for all kiosk orders.
Alternatively you can make use of our competitive package prices by sending your files directly to the lab via FTP. This is ideal for wedding and studio photographers who correct and resize their own images. Please phone 08451086243 to be issued with an FTP username and password.
With experienced printers and our advanced Digital Print Processor we can produce superior professional results every time. The greatest care is taken to ensure that the finished results are of the highest standard, required by all professional photographers. Our ICC compliant workflow enables us to read and print from files with embedded profiles so that you can be sure that What You See Is What You Get. We can print from tif or jpg files. Prints as standard, are on Fuji Supreme lustre surface (gloss also available). Please click here if you have any questions or phone 08451086243 if you need more information.